Laser Nail Fungus Treatment
Offered at our convenient location in Portland, Oregon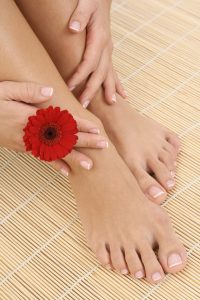 Do you struggle with toenail fungus? This stubborn condition is often treated with medications. However, oral medication often comes with an array of side effects that not all people want to endure. A successful and common alternative solution to nail fungus is laser treatment. Lasers are able to target uncomfortable toe fungus and help reduce it within a few treatments!
At Bridgetown Aesthetics, we are experienced in reducing difficult toenail fungus and helping people achieve their best results! Dr. Roby Hayes is a cosmetic surgeon who has been performing treatments and cosmetic surgery for years! His experience and education will help him develop a treatment plan that will address your concerns and help you enjoy going barefoot again!
About Nail Fungus Laser Treatment
Laser treatment is a non-surgical nail fungus cure that will help your nails appear clear and comfortable again!
At Bridgetown Aesthetics, we offer the Cutera Laser Genesis for laser toenail fungus removal. This handheld laser device emits pulses of powerful light that will work to kill fungus underneath the toenail. The wavelengths and speed of light pulses can be customized to treat the degree of fungus and help achieve your desired outcome. This treatment begins killing fungus immediately and does not require downtime. Your treatment should take about a half hour and after you can immediately return to your regular activities.
Fungal nail infections can develop at any age but often develop in older patients.
Toenail fungus can be uncomfortable and a source of embarrassment.
As we age, our nails become more brittle. Small cracks develop and fungal organisms get into these cracks. The fungus will then spread and get underneath the toenail. This area is great for fungus as it is a damp, shaded area. As the fungus develops it may turn your nail yellow or dark. The fungus will also make the nail appear misshapen and ragged. Nail fungus can be uncomfortable and painful in situations. A weak immune system, sweaty feet, reduced blood circulation, athlete's foot, skin condition, diabetes, and other circumstances will contribute to the development of toenail fungus.
If you struggle with toenail fungus, you may have already tried ointments and oral medications. These are not always successful and may come with unpleasant side effects.
At Bridgetown Aesthetics we want you to feel confident in sandals! Our treatment will help improve your day-to-day life!
Is Nail Fungus Treatment Right For Me?
If you have nail fungus then you are a great candidate for this procedure!
Nail fungus can develop at any time in your life, however, it more frequently develops in older people. Nail fungus is an unpleasant condition that can be very difficult to reduce. If you have been diagnosed with nail fungus and are not seeing a reduction in fungus, consider laser treatment. Laser treatment is effective and quick. You do not need to undergo a recovery time and will see improvement after a few treatments.
If you have toenail fungus that is unpleasant and uncomfortable, schedule a consultation with Dr. Hayes and his team today to see how laser technology can improve your life!
Personal Consultation
You consultation will include estimates of treatments it will take to improve your fungal situation.
In your private meeting with Dr. Hayes and his medical aesthetician, you will be able to explain your concerns and how you would like your nails to appear and feel. Dr. Hayes will listen and examine your nails. He will also ask about your current medications, past treatments, allergies, and other questions regarding your general health. Dr. Hayes will talk to you about the details of laser treatment. He will explain the potential risks and expected outcome. Together, you and Dr. Hayes will create a treatment plan that takes into consideration your concerns and desired goal.
Your personal consultation is a great time to ask questions.
You will have the chance to talk to a professional surgeon about the details of laser treatment and what his professional opinion on the matter is. Reading through a few of the questions we have below should help surface some more of your own concerns of areas of the treatment you are curious about.
Feel free to use these questions and write down any new ones that come to you.
Will the laser procedure be uncomfortable?
How many laser procedures do you think I will need?
What is expected of me to produce a healthy, long-lasting outcome?
Towards the end of your consultation, Dr. Hayes and you will choose a date for your upcoming treatment. He will inform you how to prepare for the procedure and what to expect afterward. If you have any more questions that did not get answered or came to you after the consultation, please give our office a call!
Preparation
Prior to your procedure, there are a few steps you should take to ensure your nails are in good condition for laser treatment.
Your nails should be clean on top and underneath as much as possible.
No nail polish or coating should be on the nails.
Before your appointment, you will also need to trim your nails.
Nail Fungus Treatment Details
When you arrive, the surface of your nails may be filed down slightly to improve the penetration of the laser. Your feet will be elevated and the infected toes will be targeted. The handheld laser device will be placed over the toe and pulsed light will be emitted. You will feel warmth below your toenails but the heat will never become unbearable. This procedure should take twenty to thirty minutes and once completed you will be able to return to your regular schedule.
Recovery
Laser toenail fungus removal is a fast, non-invasive procedure.
No injections or incisions are required! With this non-surgical solution to toenail fungus, you can return to your day without any downtime or recovery. Sometimes the treated area may swell slightly or be sensitive, but over the counter medications can control any discomfort and you will be able to enjoy your day.
Results
Multiple treatments will be required to reduce fungus. The number of treatments will depend on the treatment plan created by you and Dr. Hayes. You should see results after one treatment however up to three to four treatments will be needed to eradicate all fungal infection. You should see impressive results after three months. The toenails should be growing in clear and healthy.
Fungus infection is difficult to be rid of, however, laser treatment has shown incredible results! To keep fungus away, you will need to:
Apply anti-fungal cream to your feet, toes, shoes, and socks.
Make sure to regularly change out your socks and use an anti-fungal
powder to keep sweaty feet dry.
Keep your toenails short and clean.
Any instruments used on your feet should be properly sanitized after use.
These steps should help you maintain your laser treatment results.
The Cutera Laser Genesis is safe and effective at treating symptoms of toe nail fungus. Feel good about your feet and request a consultation today!
FAQs
Can a nail fungus be cured?
Nail fungus can be cured with laser treatment. However, nail fungus is difficult to be rid of. Fungus often comes back and health steps need to be taken to ensure the fungus stays away. These health steps include good hygiene and making sure your feet stay dry. For more information, schedule a consultation to see how your toenail fungus can be removed.
Is laser toenail fungus treatment covered by insurance?
No. It is unlikely that toenail fungus laser treatment is covered by insurance because it is often considered an aesthetic procedure.
Is toenail fungus laser treatment painful?
No. Toenail fungus laser treatment is not considered a painful procedure. No anesthetic is used in the treatment because during the procedure you should only feel a warmth below your nails. In the event you are sensitive to heat, discuss the options available to you with the technician applying the treatment.