Labiaplasty
Offered at our convenient location in Portland, Oregon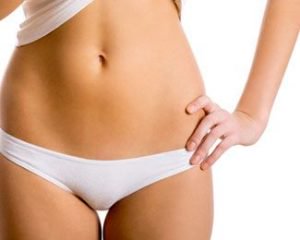 A labiaplasty is a procedure designed to address discomfort or aesthetic concerns of the vagina. Many women develop labia hypertrophy during their life. This may occur during puberty, pregnancy, childbirth or may occur due to aging. There are many uncomfortable or painful side effects that often occur when one or both labia are elongated, such as twisting, tugging and getting pinched. Aside from the physical discomfort a disproportionate labia may cause, this condition often causes women to feel self-conscious or embarrassed by their appearance.
At Bridgetown Aesthetics, Dr. Roby Hayes offers a solution to discomfort in intimate areas. This treatment reduces the size of your labia and improves the symmetry of your outer genitalia. This female rejuvenation surgery is performed with care and precision. Dr. Hayes is a board-certified cosmetic surgeon with over twenty-five years of experience in performing surgeries. Our practice offers non-invasive ThermiVa Vaginal Rejuvenation or surgical labiaplasty, with recommendations based on Dr. Hayes's surgical understanding of female anatomy.
Dr. Hayes has surrounded himself with expert staff that reflects his level of service and care. At Bridgetown aesthetics, we perform state-of-the-art techniques and strive for a high-level of care. Your procedure will be discreet and meticulously performed to ensure a positive feminine rejuvenation.
About Labiaplasty
A labiaplasty is a surgery that remodels the outer female genitalia.
The procedure reduces the amount of tissue in the labia minora, labia majora, clitoral hood, or a combination of these areas. There are different surgical techniques that you and Dr. Hayes will discuss during your personal consultation to best address your anatomy and your desired outcome.
Enlarged labia may cause a bulge to appear when wearing tight clothing, and some women are nervous to wear swimsuit bottoms because their labia may stick out. This condition is personal and should be approached with delicacy.
This is a swift, safe procedure that has been tested and improved over many years. With the increased promotion of labiaplasties, awareness is growing, and more women are receiving this rejuvenating procedure. The goal of this surgery is to improve your physical ease and help you be more comfortable with the appearance of your genitalia. The reasons for rejuvenation surgery will vary from patient to patient. Some women are only interested in improving the aesthetic of their genitalia and others the function. Whatever your reasons, the expert staff at Bridgetown Aesthetics is here to help you.
Before & After Photos
Benefits
There are many benefits to receiving a labiaplasty. Many women seek this procedure to improve the appearance of their outer genitalia. Most women don't have symmetrical labia and seek to reduce and even out the length or width. This helps the outer genitalia to appear neat and tight.
Other women seek to improve their day-to-day comfort. Reduced labia will improve your quality of life and let you enjoy regular physical activities.
Feminine rejuvenation is about both improving your appearance and the way you think about your genitalia. Our patients often enjoy how their genitalia looks and feels after their treatment. A labiaplasty is truly transformational!
Candidates
Candidates for labiaplasty may suffer from pain during physical activities, such as bike riding. This often includes discomfort or pain during sexual activities.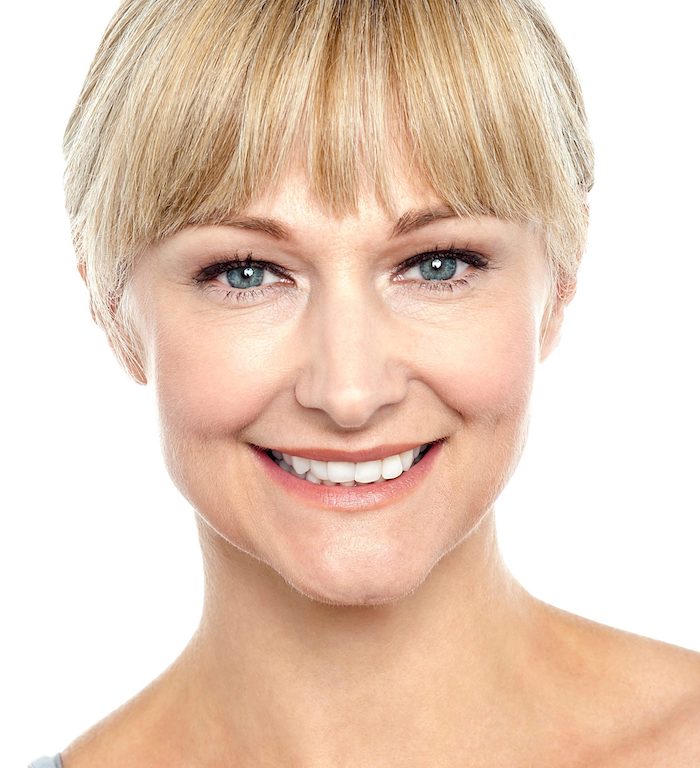 A good candidate may also be unhappy with the way her genitalia appears. Enlarged labia may look unpleasant and cause women to be self-conscious in intimate situations. Elongated labia may increase hygiene problems and cause frequent infections. It may also cause further irritation if the labia are caught in clothing. Friction can irritate the skin, causing it to become sensitive and rough.
This procedure is appropriate for healthy female adults who are experiencing any of the above symptoms. If you are unsure if you fit into this category, we encourage you to contact our office to learn more. You shouldn't have to live with discomfort or embarrassment. You deserve to be comfortable with your body!
Personal Consultation
Your consultation with Logan or Raquel and Dr. Hayes will be discreet and professional. After you share your concerns and goals, Dr. Hayes will explain the details of the procedure and how a labiaplasty will improve your appearance and quality of life.
Dr. Hayes will listen carefully and inquire about your general health, past surgeries, current medication, and allergies. He will perform a thorough examination of our outer genitalia which will include measurements and photographs. This information and examination will help him understand your concerns and strategize your procedure.
Dr. Hayes will then walk you through the surgical procedure, the potential risks, and expected outcome. There are a few techniques used to reduce the size of the labia minora, labia majora or the clitoral hood.
Trim Method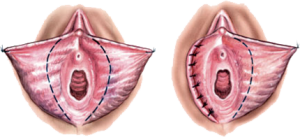 The trim method is more versatile when it comes to the variety of shapes and sizes of women's genitalia. In this procedure, the protruding tissue of the labia minora is removed, shortening it to become similar in length to either the labia majora or short enough to recede within the genitalia and not hang on the outside. It also reduces the clitoral hood to balance out your exterior tissues. This procedure may also be suggested if you are concerned about the darker edge of your labia. The trim method removes the dark tissue to improve the aesthetic of the genitalia. Overall, this treatment boasts a short recovery period and natural results.
Wedge Method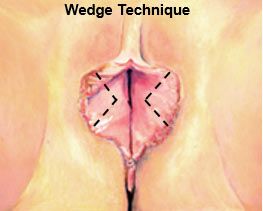 Commonly performed in cases of asymmetrical hypertrophy, this technique reduces tissues in the middle of your labia. The tissue is removed in the shape of a V, removing excess skin and tissue from both sides of the labia majora and shortening the labia minora. The labia majora will be sewn together to create a tighter exterior while maintaining natural borders. The shortened labia minora will help to create a neat symmetrical appearance. This procedure is excellent at improving some of the main concerns women have with the appearance of their genitalia.
Clitoral Hood Reduction Method
When ample tissue is removed from either labium, it may cause the skin around your clitoris to look more prominent. Dr. Hayes may suggest a procedure to reduce your clitoral hood along with either labia to improve the symmetry of your tissues. This technique is often paired with the wedge method to help you achieve your ideal result.
The incisions used in these techniques will be small and applied in natural contours to decrease visibility. Each treatment will be customized to meet your unique anatomical features and desired aesthetic.
We encourage our patients to ask lots of questions and voice any concerns during their consultation. Below we have added a guideline of questions to help you improve your understanding of the procedure and help promote new questions:
How long will a labiaplasty procedure take?
How many days do you suggest I take off from work?
Do you have a labiaplasty before-and-after photos I could see?
Do any of these photos seem similar to my case?
How many follow-up appointments will I be scheduling?
How long until I can use feminine hygiene products?
What if my period occurs the week of my appointment?
We encourage you to write down your questions and bring them to the consultation so you can feel well-informed and prepared for your upcoming surgery.
Before the end of your consultation, Dr. Hayes and you will discuss anesthesia options and schedule an appointment for your labiaplasty. He will then provide you with instructions for how to best prepare for the surgery as well as the recovery period.
If you have any additional questions or concerns that occur to you after your meeting with Dr. Hayes, please contact our office so one of our staff members can help you out.
How to Prepare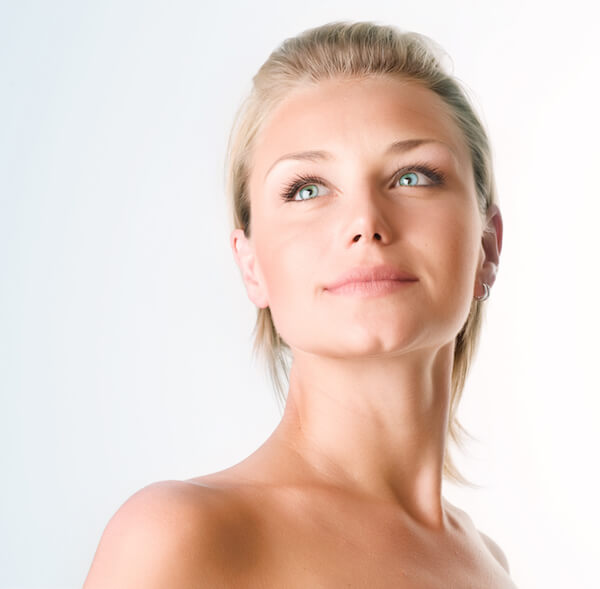 There are a few ways to prepare yourself and get ready for your procedure. You will want to pick up prescriptions a few days before your surgery and arrange for transportation. You cannot drive after the surgery and won't be able to drive until you are off prescription pain medication. Getting help from a friend or family member will greatly improve your recovery process.
We recommend you create a recovery area for yourself. This may include a comfy sofa in the living room or your own bedroom. Either way, make sure there are plenty of pillows to help you adjust and stay comfortable during your initial recovery. Put everything you need such as water, medications, and entertainment within arms-reach.
On the morning of your appointment, wear loose, comfortable clothing that will not apply pressure to your treatment area.
The Procedure
When you arrive for your procedure, you will be greeted by your surgical team. They will prepare you for surgery and administer an oral sedative. The techniques used during the procedure will have been discussed and created by you and Dr. Hayes to produce your best outcomes.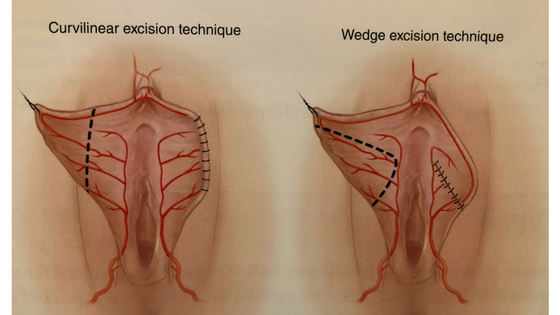 Once the sedative is taking effect and you are ready for your procedure, nitrous oxide will be given to make you even more comfortable. Dr. Hayes will delicately apply incisions in the specified areas and remove unnecessary tissue. Once completed, he will close the incisions with absorbable sutures and apply bandages. The procedure typically takes an hour to hour and a half. You will be monitored for about an hour after the procedure and then you can return home.
Recovery
A labiaplasty is different for everyone.
This is a highly personal treatment and will take a while to recover both physically and mentally. Journaling may help you process your change and help you adjust to your newly shaped genitalia. Take recovery one day at a time. At first, your tissues will be swollen and sensitive. Pain medication will be prescribed to help control any discomfort. Other medications or ointments may be prescribed during the healing process. Patients should apply an ice pack every few hours to help bring down swelling.
Be sure to get plenty of rest. Patients often take a few days and sometimes up to a week off from work. For these first few days of relaxation, put a pillow under your buttocks and sleep on your back. This will help reduce swelling and avoid putting unnecessary pressure on the treated area.
Wear loose clothing and avoid strenuous activity for two to four weeks. You should not shower for twenty-four hours and Dr. Hayes will instruct you when to return to bathing. Swimming should also be avoided for a few weeks as should certain feminine hygiene products. Most women schedule this procedure right after their period so they won't have to worry about their cycle for a few weeks. However, having your period during your initial recovery is fine. We do not suggest it because some women are more sensitive to discomfort during their period or may be uncomfortable with vaginal bleeding after a surgical procedure. However, in the event you start your period, do not worry. Dr. Hayes and his helpful staff will walk you through steps to remain comfortable and have a healthy recovery during your period.
The most important things to do during your recovery are to maintain good hygienic and follow your postoperative instructions. Doing these things should lead to a positive recovery.
Results
Vaginal rejuvenation is a transformative procedure that leaves our patients satisfied and excited about their new aesthetic.
You will immediately notice an improvement in the appearance of your outer genitalia. This will improve as the swelling decreases and the sutures dissolve, this may take about seven to twenty-one days.
Swelling will increasingly diminish after the initial healing process. Sexual activity is often permissible after four to six weeks and your final results will be apparent after three months. These results are long-lasting and, with a healthy lifestyle, should remain consistent.
Everyone's recovery and results will differ. The timelines mentioned above may differ between patients. Follow-up appointments with Dr. Hayes will help him monitor your recovery as well as instruct you when it is healthy for you to return to the above-mentioned activities.
Cost of labiaplasty
A labiaplasty is a delicate and personal procedure. At Bridgetown Aesthetics we recognize that each patient has unique bodily features. We have a customized approach to each procedure and will personalize your treatment to ensure your ideal outcome is achieved. Our hand-tailored treatment means that costs will vary between patients.
If you are interested in this procedure and would like to learn more about the details and cost breakdown of your own rejuvenation treatment, schedule a private consultation with Dr. Hayes today at (503) 505-5288. We look forward to working with you.