CoolSculpting for Arms
Offered at our convenient location in Portland, Oregon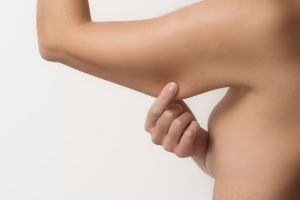 CoolSculpting for the arms is a non-invasive body contouring technique that targets excess subcutaneous fat. Subcutaneous fat is just below the skin and is stored there as an emergency source of energy, making it very difficult to remove. Many people find that even exercise and diet cannot rid them of these fat stores. The upper arms are a very difficult spot to target with exercise alone.
Sleek, Toned Arms Await You
Do you struggle with flabby arms despite your attention to working out and keeping a diet regimen? Everyone's body has bulges that refuse to submit to our diligent efforts. For many people, that area is the upper arms, especially as we age or experience life events such as pregnancy or weight-loss. Sometimes called "bat-wings", these troublesome protrusions can keep down your self-esteem when wearing short sleeve shirts. Let Bridgetown Aesthetics help you shed that upper arm flab with CoolSculpting; your spirits will soar.
Dr. Roby Hayes, of Bridgetown Aesthetics, proudly offers CoolSculpting treatments to patients in Portland. Bridgetown Aesthetics stays updated on the latest body contouring procedures for the ongoing benefit of their patients. If you want to learn more about how CoolSculpting can help you achieve your aesthetic goals, call us at (541) 388-3006. You may also schedule your initial consultation online.
Before & After Photos
Before and After Photos
About CoolSculpting in Portland
CoolSculpting is an excellent solution if you are looking for a long-lasting solution to help slim your arms. After countless hours doing dumbbell exercises or monitoring calories, the excess fat on your arms may not budge. CoolSculpting is an FDA-cleared, non-invasive technology that has shown to reduce fat in the arms up to 25% after each CoolSculpting session.[1]
What Is CoolSculpting?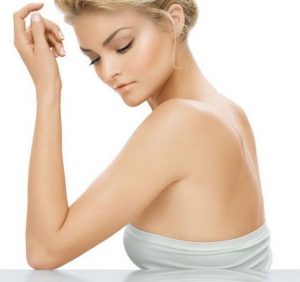 CoolSculpting utilizes cryolipolysis to get rid of fat on the upper arms. The CoolSculpting technology freezes the pinchable fat below the skin without damaging the surrounding tissue.[2]
Consistent exposure to cold temperatures will reduce the percentage of the fat cells in the upper arms. CoolSculpting has been tested and shown to lower fat stores. Even though this treatment targets fat below the skin, the procedure does not inflict damage on the surrounding tissue. You don't have to worry about burns, scarring, or marks on your skin. CoolSculpting will only affect the unwanted fat cells in your upper arms. You can beat the bulge by opting for CoolSculpting treatment on your arms. For a more in-depth discussion of how CoolSculpting works, visit our blog.
Many Benefits
CoolSculpting is a non-surgical treatment. You don't have to worry about incisions, anesthesia, preparation, downtime, or long-lasting scars. CoolSculpting is a convenient alternative to cosmetic surgery. Browse through our gallery for CoolSculpting before and after pictures and see how we can help patients achieve slender arms!
Slim arms will not only be aesthetically pleasing, but you will also be surprised how slimming down one area of your body enhances the balance and attractiveness of your whole body. Many patients report that clothes fit better and they experience enhanced self-esteem.
CoolSculpting Benefits
Quick treatment sessions
Long-lasting results
Little to no downtime required
Non-invasive procedure
Reduced-fat of about 20%-25% after each treatment session
No preparation required
Slimmer body contours
Is Arm CoolSculpting Right for Me?
CoolSculping for arms is often sought out by men and women with thick, jiggly upper arms.
Those looking to undergo CoolSculpting of their arms are healthy individuals who are at or near their ideal weight. Candidates have excess fat in their upper arms and wish to slim the area without invasive surgery. Often referred to as "bat wings" this development can be embarrassing and unattractive. Many people find it difficult to fit into clothes and may even avoid physical activities that will bring attention to their arms.
Ideal patients should intend to maintain their healthy lifestyles during and after CoolSculpting treatment to maintain their great results. Please note, CoolSculpting is not a weight-loss procedure; it's a body sculpting technique.
This non-invasive procedure is great for people looking to avoid surgery. CoolSculpting is convenient and requires no downtime. Individuals with a busy lifestyle, family or demanding job are a perfect fit!
Your Personal Consultation with Dr. Hayes
During a private consultation with our CoolSculpting specialists, they will invite you to ask any questions regarding CoolSculpting your arms. You are encouraged to share your aesthetic goals and expectations. Logan or Raquel will inquire about your health and medical history then they will closely examine your arms and describe the CoolSculpting procedure in detail.
Once we discuss your desires and the CoolSculpting process, we will complete a thorough assessment of your overall wellness. Bridgetown Aesthetics can then determine your candidacy and work with you to create a customized treatment plan to help meet your needs. This plan will indicate the number of sessions needed for optimal results. If CoolSculpting is not a fit for you, Bridgetown Aesthetics will provide suggestions and information about alternative procedures to help you meet your aesthetic goals.
To get a glimpse of the results you can achieve, feel free to browse the reviews written by our wonderful clientele. If you want to discover how CoolSculpting can help you achieve a sleeker, more toned physique then contact Bridgetown Aesthetics at (541) 388-3006. If you prefer, you can book your initial consultation online.
Easy Preparation
A definite perk of CoolSculpting your arms is that the procedure is non-invasive. This means there is minimal preparation for your procedure. Dr. Hayes will discuss any specific preparation instructions with you during your consultation appointment. If you are a healthy non-smoker with intact skin at the treatment site, all you need to do is show up for your arm CoolSculpting appointment.
During the Procedure
When you arrive at Bridgetown Aesthetics for your CoolSculpting appointment, you will be guided into one of our state-of-the-art treatment rooms. Your arms will be cleansed and a gel pad and applicator will be applied to your target area. You can sit back and relax as the CoolSculpting technology goes to work freezing unwanted fat.
You may experience mild pulling, tingling, and/or cramping at the treatment site. These sensations subside as the area becomes numb during the procedure. The feelings are well-tolerated by patients. You can read, watch television, or even take a quick cat nap while your arms are being treated.
After a 30-60 minute session, the applicators and gel pads will be removed. You will receive a gentle massage in your arms to help breakdown the fat deposits, aiding your body in removing the treated cells. You are free to go about the rest of your day after a CoolSculpting treatment.
Safe Recovery
After your CoolSculpting procedure, you may experience redness and tingling on your arms. These should subside within 24 hours after treatment. Otherwise, you will be able to resume normal activity immediately after each CoolSculpting session. Little to no downtime is necessary with CoolSculpting!
Attractive Results
It is important to closely follow your CoolSculpting treatment plan to ensure your best results. You may begin noticing results in about 3 weeks, with final results enduring 2 to 3 months after treatment. Your body will gradually flush out the damaged fat cells through the lymphatic system for about 6 months following your CoolSculpting procedure. The best way to maintain healthy, slim arms is to stay at a consistent weight. Stay active and eat a healthy diet to enjoy your results for a long time.
You will be excited to flaunt your noticeably slimmer arms after undergoing CoolSculpting! The fat cells will be gone for good once treated by cryolipolysis.
How Much Does CoolSculpting Cost in Portland?
The cost of your CoolSculpting treatment will be unique to your goals and whether you are combining it with the treatment of another area. Your CoolSculpting specialist will discuss the cost of your procedure once a treatment plan has been created. If you are interested in learning more about CoolSculpting and how it is helping men and women everywhere slim down and achieve their ideal look, give us a call.
You can contact us at (503) 505-5288 and schedule a consultation with Logan or Raquel. We look forward to hearing from you!
FAQ
Is CoolSculpting safe?
CoolSculpting is FDA-cleared for addressing stubborn fat deposits in 9 specific areas of the body. These include under the chin (submental), under the jawline (submandibular), upper arms, flanks, abdomen, bra rolls, back, under the buttocks, and thighs. Receiving FDA-clearance means the CoolSculpting technology is safe and effective in reducing fat in these areas.
What happens to the fat after CoolSculpting?
Following CoolSculpting treatment, the destroyed fat cells are flushed from the body by the lymphatic system. You may experience increased bowel movements and urination after CoolSculpting. This is your body's natural way of removing the excess waste produced by the damaged cells. 
Will the fat return if I gain weight?
During puberty, your body has a certain number of fat cells that will not fluctuate much as you get older. When you gain weight, the fat cells swell and once you lose weight the fat cells shrink. With CoolSculpting, your body rids itself of the treated fat cells, lowering the number of fat cells you have in the treated area. But, your existing fat cells can still expand so it's important to maintain a healthy lifestyle.
How many sessions of CoolSculpting are necessary for the arms?
Many patients generally need two sessions, but depending on the goals of the patient and the amount of fat present, more treatments may be needed. Your CoolSculpting specialist will create the perfect treatment plan for you and your body goals.
References
CoolSculpting. (2020). The science of CoolSculpting. Retrieved from https://www.coolsculpting.com/what-is-coolsculpting/
Krueger, N., Mai, S. V., Luebberding, S., & Sadick, N. S. (2014). Cryolipolysis for noninvasive body contouring: clinical efficacy and patient satisfaction. Clinical, Cosmetic and Investigational Dermatology, 7, 201-205. DOI: 10.2147/CCID.S44371