Arm CoolSculpting
Offered at our convenient location in Portland, Oregon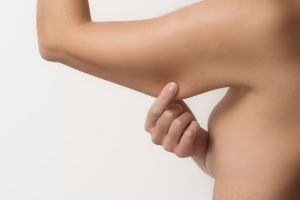 Flabby arms can make wearing shirts and sweaters difficult.
Excess fat in the upper arms is very difficult to remove and may even be a source of self-consciousness. CoolSculpting for upper arm fat is growing in popularity because it is a convenient, nonsurgical solution to stubborn arm fat!
About CoolSculpting
CoolSculpting is a non-invasive body contouring technique that targets excess subcutaneous fat. Subcutaneous fat is just below the skin and is stored there as an emergency source of energy, making it a very difficult fat to remove. Many people find that even exercise and diet cannot rid them of these fat stores. The upper arms are a very difficult spot to target with exercise.
Many men and women are finding CoolSculpting an effective treatment for upper arm flab.
CoolSculpting implements the tested science of cryolipolysis, or fat freezing, to kill off unwanted fat cells. Consistent exposure to cold temperatures will reduce the percentage of the fat cells in the upper arms. CoolSculpting has been tested and shown to lower fat stores. Even though this treatment targets fat below the skin, the procedure does not inflict damage. You don't have to worry about burns, scarring or marks on your skin. CoolSculpting will only affect the unwanted fat cells in your upper arms.
CoolSculpting is a diverse treatment that can be applied to areas all over the body. The abdomen, thighs, below the butt, knees, flanks, back, and the area below the chin can all be slimmed down with fat freezing. Applicators have been designed for each of these areas. Each applicator has been created to adjust in size and comfortably fit contours. The upper arms are treated with the CoolAdvantage fit, a smaller applicator that will target the stubborn fat bulge that develops on so many people's arms.
CoolSculpting is a great noninvasive solution for individuals looking for an alternative to cosmetic surgery!
Is Arm CoolSculpting Right For Me?
CoolSculpt your stubborn arm fat away simply and effectively!
CoolSculping for arms is often sought out by men and women with thick, jiggly upper arms. Often referred to as "bat wings" this development can be embarrassing and unattractive. Many people find it difficult to fit into clothes and may even avoid physical activities that will bring attention to their arms.
If you relate to these feelings and thoughts, it may be time to consider CoolSculpting.
This noninvasive procedure is great for people looking to avoid surgery. CoolSculpting is convenient and requires no downtime. Individuals with a busy lifestyle, family or demanding job are a perfect fit! To learn more about fat freezing, look through CoolSculpting reviews to see what people's experiences have been. We encourage everyone interested in CoolSculpting to schedule a free consultation and learn more about how this treatment will help you achieve slender arms!
Benefits
CoolSculpting is a nonsurgical treatment. You don't have to worry about incisions, anesthesia, preparation, downtime, or long-lasting scars. CoolSculpting is a convenient alternative to cosmetic surgery. Browse through our gallery to see CoolSculpting before and after pictures of arms. See how we are helping patients achieve slender arms!
Slim arms will not only be aesthetically pleasing, but you will also be surprised how slimming down one area of your body enhances the balance and attractiveness of your whole body!
Personal Consultation
A consultation with our CoolSculpt specialists will get you started down the path to a healthy appearance. In this meeting, you will have the opportunity to learn more about CoolSculpting and how it works. They will answer your questions and assess your health and ask about your medical history and current medications to ensure you are in a good place for CoolSculpting. Your specialist will also examine your arms to make sure the skin is in good condition for treatment.
Once CoolSculpting is determined as a safe treatment for your upper arms, an appointment will be scheduled.
Preparation
CoolSculpting is a simple treatment that requires little to no preparation! All we need from you is to show up to your appointment and relax. In your consultation with Logan or Raquel, they will inform you if you need to do anything prior to your CoolSculpting appointment.
Procedure
You will be taken to one of our state-of-the-art rooms that are furnished with CoolSculpting applicators and technology. After having a seat in a comfy chair, CoolSculpting devices will be applied to your arms.
The device will be suctioned to your arms. The suction action allows the device to target fat but to also draw fat up to the skin's surface so it can be properly exposed to cold temperatures. Your treatment will last about thirty-five to sixty minutes.
Once complete, you will feel a slight pressure as the device is removed. Your arms will be massaged for a few minutes and you will be free to return to your regular activities.
Recovery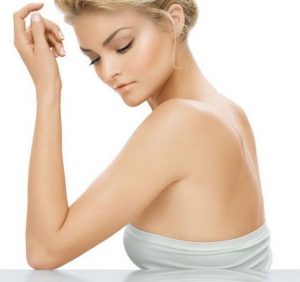 Following the treatment, your arms will be numb. As the day progresses, you will feel a tingling sensation as your arms regain feeling.
The skin of the treatment area may be red but this should also fade throughout the day. Avoid exercise and strenuous activities for a day or two.
For the next few weeks, your body will be pinpointing the cells killed by CoolSculpting. Your body will remove these cells from your arms and metabolize them.
Results
Your best outcome will be noticeable in three to four weeks. Your best outcome will be noticeable in about three months. Some patients will need multiple treatments to achieve their ideal aesthetic.
Your CoolSculpting results are long-lasting! The best way to maintain healthy, slim arms is to stay at a consistent weight. Stay active and eat a healthy diet to enjoy your results for a long time.
Complementary Procedures
It is common for a patient to CoolSculpt two areas of their body during their appointment. Don't just slim down your arms, slim down another area for comprehensive improvement in your appearance. If you are bothered by stubborn fat along your abdomen, legs, or elsewhere, ask our specialists about treating two areas in your CoolSculpting consultation. Together, you and your CoolSculpt specialist will create your best treatment plan.
Cost of CoolSculpting Arms
The cost of your CoolSculpting treatment will be unique to your goals and whether you are combining it with the treatment of another area. Dr. Hayes will discuss the cost of your procedure once a treatment plan has been created. If you are interested in learning more about CoolSculpting and how it is helping men and women everywhere slim down and achieve their ideal look, give us a call. You can contact us at (503) 505-5288 and schedule a consultation with Logan or Raquel. We look forward to hearing from you!
FAQs
How many CoolSculpting treatments do you need for arms?
Many patients generally need two treatments but depending on the goals of the patient and the amount of fat present, more treatments may be needed. Your CoolSculpt specialist will create the perfect treatment plan for you and your body goals.
What are the side effects of CoolSculpting?
Some people experience tingling and burning sensation as they regain feeling in their treatment area. These symptoms can be uncomfortable but should not be unbearable. Over-the-counter medications can be used to control discomfort. Prior to your appointment, your specialist will inform you of the potential risks, treatment, and recovery process of CoolSculpting. She will also assess your health and determine if CoolSculpting is a safe and healthy option for you. If CoolSculpting is deemed an unhealthy treatment, they will create an alternative plan to help you achieve slender arms.
How long does it take to see results from CoolSculpting?
Some patients see results as soon as four weeks. Most patients will see their body goals achieved at three months. Everyone's body is unique and will dispose of the fat cells at their own rate.
Will CoolSculpting tighten skin on arms?
No. CoolSculpting does not affect the skin. If you are looking to reduce saggy, stretched skin you may need a surgical procedure.
Does CoolSculpting work on arms?
Yes! CoolSculpting is a great treatment for stubborn fat in the upper arms. CoolSculpting is growing in popularity and is a convenient way to get rid of that last bit of fat. Many people tend to hit a wall when working out. For that last bit of fat that can't be reduced with diet and exercise CoolSculpting is the perfect solution!
How much does CoolSculpting cost?
CoolSculpting costs vary based on the area being treated, the patient's aesthetic goals, and how much fat needs to be reduced. Dr. Hayes and you will discuss treatment costs in your consultation.
How effective is CoolSculpting for arms?
CoolSculpting is a very effective treatment for the arms. Look through our before and after gallery to see how both men and women are benefiting from CoolSculpting. This noninvasive, simple treatment will help you obtain better proportions.