TruSculpt Flex
Offered at our convenient location in Portland, Oregon
FREE Fit 3D Body Scan With Consultation of Trusculpt Flex! Contact us for details.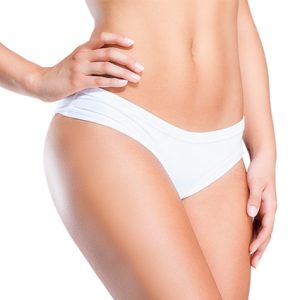 What if we told you that you could achieve sculpted, toned abdominals, a lifted, firm buttocks, or strong, leg-defining thighs, all without hitting extra hours to your gym routine? You may say it's too good to be true: We say it's TruSculpt Flex!
Cutera has introduced TruSculpt Flex, a revolutionary, non-invasive sculpting treatment that tones the muscles of the abdomen, buttocks, thighs, arms or calves to deliver impressive, athletic results. TruSculpt Flex builds muscle tone by emitting low levels of energy to trigger intense muscle contractions. With TruSculpt Flex, you don't have to choose: patients can tone up to eight muscle groups at one time!
If you struggle to achieve the athletic body you want, TruSculpt Flex will deliver results within three to six weeks. Schedule a private TruSculpt Flex consultation at Bridgetown Aesthetics to learn more about the transformative effects of this safe, contour-defining treatment today.
How Does TruSculpt Flex Work?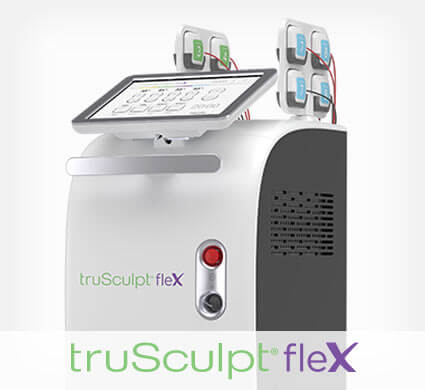 TruSculpt Flex is the next evolution in muscle-toning technology. TruSculpt Flex emits safe, low levels of electricity to tone up to eight spots on the body at once!
TruSculpt Flex is designed with TruControl to guarantee safe, consistent results. The targeted TruSculpt Flex applicators will engage both small and large muscle groups to achieve a deep, unparalleled level of muscular definition. Every session is highly customizable and tailored to your unique fitness goals.
TruSculpt Flex's treatment stimulates muscle contractions over three stages:
Prep Mode: The equivalent of stretching your muscles before a workout, Prep Mode warms up the muscles with a twisting motion and prepares them to get the most benefit from the toning and sculpting contractions.
Tone Mode: Stimulates muscles to build strength and muscle endurance. Tone Mode contracts, holds, and then relaxes the muscles.
Sculpt Mode: Builds new muscle fibers and improves your metabolic rate. Sculpt Mode emits fast, deep contractions in sequence and creates more definition in the treated area.
Treatment sessions are 45 minutes long. A TruSculpt Flex initial treatment plan is typically four sessions spaced over a two week period. Within two weeks, patients accomplish the equivalent of over 100 workout sessions at the gym.
NO DOWNTIME is required after TruSculpt Flex: you can get right back to your day after your session. Many men and women decide to take the opportunity to hit the gym after TruSculpt Flex to optimize the results of their treatment.
Before & Afters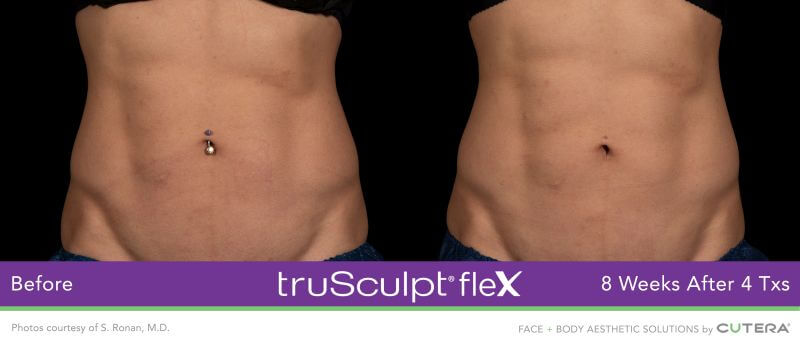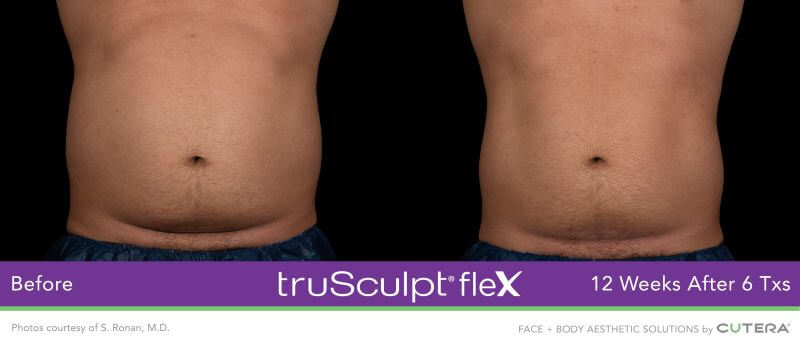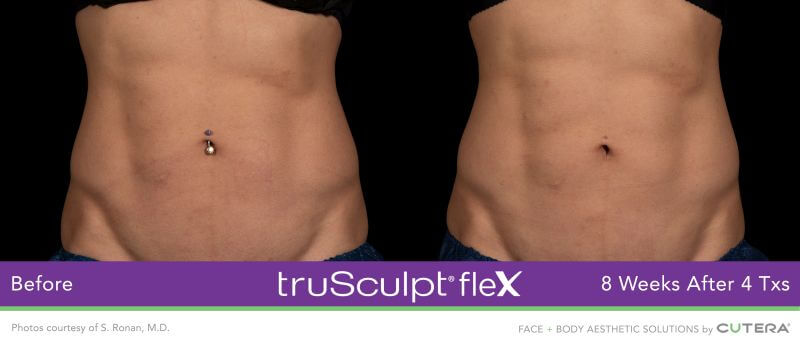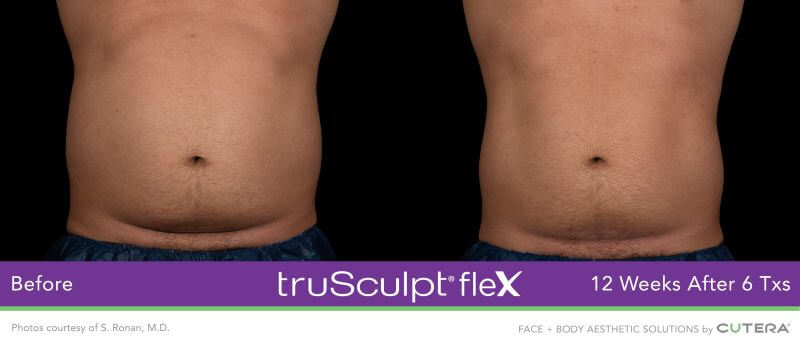 Areas Treated
Abdomen
Do you dream of six-pack abs?
Whether you want dramatic definition, or simply a tighter, flattering contour, TruSculpt Flex is customized to your goals. In order to deliver your preferred abdominal tone, TruSculpt Flex applicators will be placed on the upper and lower abdomen, as well as the flanks. The results of TruSculpt Flex have helped both men and women tone their waistlines, improve their posture, and fight consistent problems like back pain.
Buttocks
Full, strong booties are in-demand! Tone and lift your buttocks into a thing of beauty with TruSculpt Flex. Applicators will be strategically placed on and around the buttocks to achieve muscle tone and shape. If squats are not delivering your desired results, TruSculpt Flex can do so safely and effectively.
Thighs
Build muscle and tone your thighs, without the pain or time of the gym.
TruSculpt Flex applicators are placed over the anterior thighs (to treat the quads) and/or the posterior thighs (to treat the hamstrings) to target the unique needs of your thighs.
Whether you want a healthy tone, or are working toward muscular trunks, your treatment will deliver your preferred results.
Arms & Calves
With the muscle building and toning abilities of the TruSculpt Flex system, you can achieve greater muscular definition on your arms and legs. TruSculpt's versatile applicators can be used to strengthen and enhance definition of the biceps, triceps, and gastrocnemius muscle groups, which are notoriously challenging to work out.

Benefits of TruSculpt Flex
TruSculpt Flex is a top choice among men and women seeking their best bodies!
Wondering if TruSculpt Flex is right for you? Benefits of TruSculpt Flex include:
Tones your body without the pain of a workout
Achieves your ideal buttocks contours
Sculpts your abdominals for 4- or 6-pack abs (your choice!)
Tightens and lift your thighs
Improves your entire body at once
Delivers results you can't get at the gym!
Results within three weeks
Reduces back pain
Improves athletic performance
Convenient, non-invasive treatment
Safe, FDA-approved way to contour the body
Candidates
Could your booty use a boost? Want more thunder in your thighs? If you want a better-toned buttocks, firmer thighs, or more defined abs, TruSculpt Flex is a safe, proven way to build, tone, and sculpt your muscles for beautiful, real results.
If you are an overall healthy person who struggles to achieve your body-shape goals or has reached a plateau in the gym, you are an excellent candidate for TruSculpt Flex! One of our body contouring specialists will discuss your medical history and current health profile and your goals with you during your private consultation in order to make sure TruSculpt Flex is right for you.
Consultation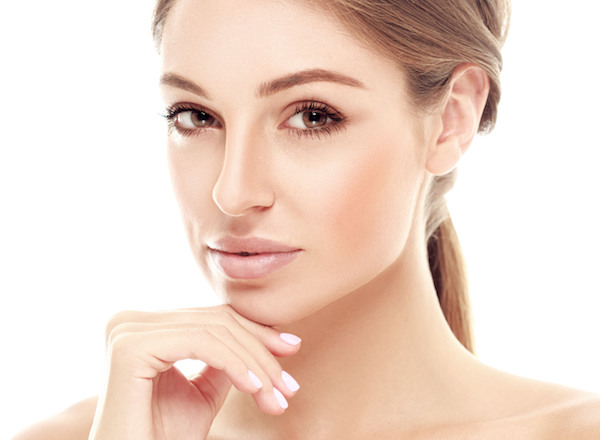 Thanks to TruSculpt Flex, it is now easier than ever to achieve your goal body. If you are interested in the life-changing results of this treatment, our specialists will be happy to answer any questions you have during a private consultation at Bridgetown Aesthetics. They will take the time to get to know you and discuss the results you want to achieve. After assessing your presenting muscle tone, they will work with you to create your ideal treatment plan. We now offer a free Fit3D Body Scan ($50 value) as part of your initial consultation.
Treatment with TruSculpt Flex
TruSculpt Flex enables you to tone and sculpt multiple areas of your body at once unlike EMSculpt or CoolTone! Up to EIGHT muscle groups can be treated simultaneously in a single TruSculpt Flex treatment session, rather than the ONE or TWO muscle groups treated with EMSculpt or CoolTone. Your treatment will be customized to the unique needs of your muscles and your desired outcomes. Your body will receive the benefit of an intense workout, all while you lie comfortably.
A TruSculpt Flex session lasts 45 minutes.
Four to eight TruSculpt Flex applicators will be placed in the appropriate areas of the abdomen, thighs, buttocks, arms and/or calves. The applicators will emit low levels of electricity to stimulate muscle contractions and build muscle tone. TruSculpt Flex will take your surface and deep muscle groups through Prep, Tone, and Sculpt mode. These modes will prepare, strengthen, and build new muscle. Intensity of the muscle stimulation is adjusted to your tolerance and conditioning levels to avoid pain during the treatment session.
Once your treatment is complete, you will be able to get right back to your day! Zero downtime is required after TruSculpt Flex. Many patients take the opportunity to complete a workout after TruSculpt Flex to optimize their gains.
Results with TruSculpt Flex
Ready to reach your goals? TruSculpt Flex is a convenient, highly customized body sculpting solution. Patient satisfaction is high because the treatment WORKS. In order to see the most dramatic improvement, four to six sessions are recommended.
Within three to six weeks, patients will begin to see noticeable changes in their abs, buttocks, thighs, arms or legs, with an average of 30% increase in muscle mass achieved by 8-12 weeks.
TruSculpt Flex is an efficient, convenient treatment that helps patients accomplish their best body. Results of TruSculpt Flex are easily maintained for the long-term! Maintenance appointments are recommended every one to three months to maintain optimum, long-lasting muscle tone.
Cost
TruSculpt Flex is a highly customizable procedure. The price of treatment with TruSculpt Flex will depend on the details of your personalized treatment plan. Once you and our specialist have determined the number of treatments and the areas you would like to target, you will receive an appropriate cost breakdown.
FAQ
Is TruSculpt Flex safe?
TruSculpt Flex is a safe, FDA-approved muscle-toning treatment. TruSculpt Flex emits low, controlled electrical currents to stimulate muscle contractions and build muscle tone. The treatment uses minimal energy for maximum results.
What can I use TruSculpt Flex for?
If you struggle to tone your body into your preferred size and shape, TruSculpt Flex will help build and sculpt targeted muscle groups for a more fit, flattering physique. TruSculpt Flex applicators can be placed on up to eight different muscle groups for a customized, targeted treatment. TruSculpt Flex is approved to tone the abdomen, buttocks, and thighs.
Will TruSculpt Flex get rid of fat?
TruSculpt Flex targets the muscles. It is not designed to help eliminate fat. One of the benefits of TruSculpt Flex is an increase in metabolic rates, which can enable patients to burn more fat following their treatment. Individuals will see their best results from TrueSculpt Flex if they are within a few pounds of their goal weight and have healthy existing muscle tone.

If you have stubborn subcutaneous fat that refuses to respond to diet and exercise, you may be a good candidate for a combined treatment plan of CoolSculpting, followed by TruSculpt Flex. CoolSculpting is a non-invasive fat freezing treatment that make it easier than ever to get rid of unwanted fat, without inconvenience or downtime.
Dr. Hayes wants his patients to enjoy their best, most beautiful results! If you are unhappy with the contours of your body, you are invited to schedule a private consultation with Bridgetown Aesthetics. We will assess the needs of your case to help you determine if fat elimination is recommended, or if you are ready to see your ideal results with TruSculpt Flex for buttocks, thighs, or abdomen.