Enlighten Laser Tattoo Removal
Offered at our convenient location in Portland, Oregon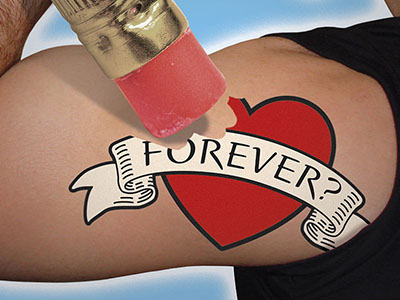 Introducing the world's first dual wavelength (1064 nm + 532 nm) and dual pulse duration (picosecond + nanosecond) laser system featuring superior results!
The Cutera Enlighten Laser system features extremely short and high-power picosecond laser pulses which efficiently and quickly breaks down the ink particles in tattoos. A picosecond is one-trillionth of a second and is 1,000 times shorter than nanosecond pulses used in existing lasers for tattoo removal.
Picosecond laser pulses have been shown to remove tattoos more completely and in fewer treatment sessions than traditional laser used historically in the past.
What is a Cutera Enlighten Laser Treatment?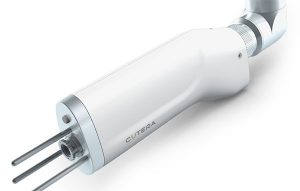 The Enlighten laser is a cutting edge skin care technology that uses lasers to remove tattoos and decrease pigmentation. The device emits light very quickly to break up tattoo inks. The Enlighten system is a Cutera laser. Cutera is a company dedicated to providing skin specialists with cutting edge technologies to improve people's lives.
Tattoos are an artistic way to design our bodies or commemorate loved ones. However, over time, tattoos may lose their value or become a regret. At Bridgetown Aesthetics, we recognize that tattoos are not always forever! We offer a treatment that will gradually diminish your tattoo using a minimally invasive technique.
Laser tattoo removal treatments will remove tattoos that you have grown to dislike or that do not reflect where you are in life. Treatment with Pico Genesis can also reduce the visibility of skin pigmentation, helping to improve the tone and texture of the skin. Our highly trained staff will help reduce your tattoos and gain clear, smooth skin. For a quick, tattoo off treatment, consider the Enlighten laser procedure!
Before and After Photos
The Science Behind Enlighten Laser Treatment
The Enlighten system is designed with two combined lasers to effectively target tattoo ink.
Tattoos are comprised of colored inks, so the Enlighten technology uses multiple wavelengths to treat a wide variety of colors. Two wavelengths, 532 nm, 1064 nm, and are used to break apart specific colors and help reduce the visibility of the tattoo.
When the tattoo is first addressed, longer pulses of light will be used to break up the large color particles. As the tattoo fades, shorter pulses will be more effective at reducing the shrinking color particles.
The technology uses nanosecond and picosecond pulses alongside varied wavelengths to effectively treat the skin. The use of short light pulses allows the laser to break apart pigmentation while avoiding heat damage to the surrounding skin.
Many laser treatments require multiple appointments, sometimes up to fifteen, to reduce tattoos. Their results are inconsistent and expensive. With the Enlighten laser system, you will see dramatic improvement after three appointments. The advanced technology and various features allow this treatment to provide impressive, consistent results.
Regardless, if you are concerned about tattoos or pigmentation, an Enlighten laser procedure will transform your skin!
Advantages of Enlighten Laser
If you are looking to improve the tone and texture of your skin, an Enlighten Laser treatment may be an excellent solution for you! Designed to be an effective pigment or tattoo eraser, this laser removal method will help to quickly improve discoloration in the skin. It often only takes about 3-5 treatments for patients to see significant improvement in their skin. Enlighten will not only reduce skin imperfections quickly, but it will also improve the health of the targeted skin as well. Some of the notable benefits Enlighten offers are:
Safe for all skin types including darker skin
Exceptional clearance and results
Fewer treatments needed than other laser tattoo removal devices
Unwanted tattoos can now be totally removed more efficiently with less chance of scarring, less pain and shorter recovery time.
There are several distinct advantages that exist in utilizing pico technology over nanotechnology for tattoo removal. Depending on the ink colors and the size of the tattoo, it normally requires only 1/2 the number of treatments with the Enlighten Laser. Nanotechnology also generates heat with a longer duration, which increases the risk of scarring. The Enlighten Laser's pico technology generates heat 1000x faster, separating tattoo pigment into much smaller particles and at the same time reducing thermal collateral damage to the target's surrounding tissues.
The Enlighten laser system uses many different technological advancements to help make tattoo removal more convenient for you!
Enlighten Laser Candidates
If you want to get rid of uneven pigmentation and skin blemishes such as age spots or sun spots, you should consider an Enlighten laser treatment. This procedure is available to adults who dislike a tattoo, or various conditions that discolor the skin. To know if you are a good candidate for this procedure, contact our office today to set up a personal meeting with our certified advanced estheticians.
Skin Care Consultation
All treatment plans are reviewed by Dr. Hayes.
During your initial consultation, our Certified Advanced Esthetician will examine your skin and discuss your specific concerns. They will work directly with you to create a custom treatment plan to help achieve your specific goals, using the Enlighten Laser Tattoo Removal.
During your personal consultation, we will ask about your concerns and examine the tattoo or skin imperfections. We will need to know about your skin care routine, past procedures, general health, allergies, and current medications to understand if Enlighten Laser is a healthy option for you. If Enlighten is not a healthy option, she will suggest alternative treatments that will help you achieve your aesthetic goals.
Before you leave, the staff will determine the approximate number of treatments needed to achieve your best outcome.
The Medical Aesthetician will explain the steps of the procedure, potential risks, and the expected outcome. She will walk you through how to prepare for the treatment and what recovery will look like. Together, you and she will schedule a treatment plan that will have you your best results in no time!
Laser Skin Treatment Process
Prior to the appointment, patients will need to avoid applying any active ingredient products to the treatment area. Active ingredients may agitate the skin and cause irritation during the treatment and recovery. Patients should avoid sun exposure or tanning for several weeks prior to laser treatment.
Patients compare the procedure to a rubber band being snapped against their skin. Topical or local anesthetics may be available from your provider to minimize discomfort if needed.
The skin pigmentation and tattoo removal process is simple. At the beginning of the appointment, the skin will be cleaned and the preferred anesthetic will be administered if desired. The laser device will be guided over the treatment area for the designated amount of time. Once completed, the area will be bandaged and the patient can return to their daily routine.
Recovery After Laser Treatment
Most patients experience redness and swelling immediately following the treatment. Slight blistering may sometimes occur. These side effects are temporary. Patients can return to regular activities immediately following the treatment.
Enlighten Laser Results
You should be prepared for multiple treatment sessions.
The total number of treatments vary depending on the composition, depth and the color of the ink, as well as the size of the tattoo. Your provider can give you a better idea of the total number of treatments needed during your consultation and once your treatments begin.
Multiple sessions are required because tattoo ink is deposited deep in the skin. In order to reach all of the ink in the skin, multiple treatment sessions are needed for clearance, typically 8-10 weeks apart.
Depth, size, and color of the tattoo also impact the number of treatments needed. The number of treatments needed for tattoo clearance using the Enlighten Laser is typically much fewer (often half the number) than what's needed using older (nanosecond or Q-switched) lasers.
The timeline for final results will vary between patients.
By the third appointment, patients should be seeing significant improvement in the appearance of their tattoo or skin pigmentation. The results achieved are long-lasting. The ink or pigmentation has been removed and will not come back.
Price of Laser Skin Treatment Near Me?
The price for Enlighten Laser Tattoo Removal varies depending on your area of concern, the number of sessions needed and your ultimate goals. Your provider and you will work together to create a customized treatment plan that's tailored to your body, your goals, and your budget. If you are interested in learning about your personal treatment and tattoo removal cost, call us today at (503) 505-5288 to schedule a consultation.
For your best pigmentation and tattoo removal option, consider an Enlighten laser procedure with Bridgetown Aesthetics!