Renuvion Skin Tightening
Offered at our convenient location in Portland, Oregon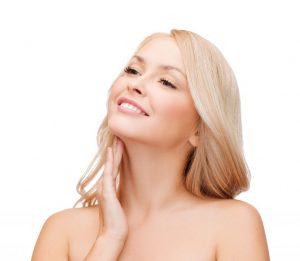 As we age, our skin begins to show the years. The loss of youthful volume, skin elasticity, and muscle mass creates a sallow, saggy look. To tighten your skin and freshen your look, Renuvion is a great option.
This revolutionary approach administers targeted radiofrequency (RF) waves to heat the subdermal soft tissue. The RF approach is coupled with ionized helium gas to keep your surrounding skin comfortably cool. Renuvion contracts the affected area, tightening your skin and replenishing your youthful qualities. Think of it as a facelift without the invasive element of excess skin removal.
To learn more about your facial rejuvenation options in the Portland, Oregon region, book a consultation with Dr. Roby F. Hayes, M.D.. His experience and expertise can guide you to a taut new look.
About Renuvion with J-Plasma
To help shrink unwanted jowls, arm flaps, belly rolls, or other loose skin, Renuvion focuses its energy rapidly and carefully. The process heats soft tissue to 85 degrees celsius for short intervals of 0.04 to 0.08 seconds at a time. [1] Meanwhile, the surrounding area is kept colder, preserving a healthy overall body temperature.
By creating a quick, repeated series of heat transfers, Renuvion safely and effectively contracts the soft tissue lining your hypodermis.
Renuvion is one form of J-Plasma, a technique that uses ionized gas to micro-target unwanted fat deposits. [2] The applications of J-Plasma are varied, giving practitioners the ability to coagulate and even remove fat deposits gently and selectively.
Renuvion is a multifaceted approach to skin tightening. It combines the benefits of liposuction with the natural regenerative properties of your own skin. The human body responds to Renuvion by amplifying its natural collagen production. Collagen is a protein that promotes the growth of skin cells, blood vessels, teeth, and bones. By stimulating collagen production, Renuvion supports your subdermal functions long after the procedure ends.
Benefits
The soft tissue beneath your skin is delicate. It is difficult to tighten sagging skin effectively, especially as we age. Diet and exercise are often insufficient. Renuvion is a contouring procedure that gently smoothes and lifts those hard to treat areas around the abdomen, neck, face, and arms.
As J-Plasma treatment tightens your skin, the fine lines begin to disappear. If crow's feet, laugh lines, and/or a neck wattle is bothering you, then Renuvion may be just the right fit. Unlike other, more extensive procedures, Renuvion requires very small incisions.
Dr. Hayes is an expert in his field, so he will do his best to minimize scars and maximize results.
The recovery time from Renuvion is only a few days, and the results are almost immediate. To learn how Renuvion can benefit you, contact the team at Bridgetown Aesthetics to discuss your cosmetic opportunities.
Ideal Candidates
If you struggle with loose, sagging, or wrinkled skin, then you might be the perfect candidate for Renuvion. Healthy individuals who wish to recapture a more youthful version of themselves should consider the targeted benefits of radiofrequency treatments. Tighten up your body, quickly and safely, with Renuvion with J-Plasma.

Schedule Your Personal Consultation
If you are ready to improve your look, then Dr. Hayes is ready to listen. He will perform an informal assessment of your "problem areas" and ask about your aesthetic goals. Together, you can create a strategy to turn your wish list into a visionary outcome.
Dr. Hayes will give your case the attention and diligence it demands. Your satisfaction is his top priority. There is no such thing as too many questions when it comes to your continued wellness and aesthetic enhancement.
To get better acquainted with Dr. Hayes before your consultation, please visit our Blog. We like to update our clients about the latest enhancement-related news and trends in the Portland Oregon vicinity. Call (503) 505-5288 when you are ready to take the next step in your cosmetic journey.
Preparation
During your consultation, Dr. Hayes will give you instructions on how best to prepare for your Renuvion procedure. Please follow his directions carefully and plan ahead accordingly.
Every patient is unique, so every preparation is customized to your preferences and the specifications of your procedure.
Dr. Hayes may advise you to discontinue taking certain medications in the days or weeks preceding your Renuvion session. You should also quit smoking to facilitate optimal healing. Nicotine accelerates the aging of skin by constricting circulation. When you get less oxygen to your flesh, it suffers. The whole point of Renuvion is to take years off your look, and smoking would detract from this goal.
Renuvion is an outpatient procedure, so you will be able to return to the comfort of your home following the procedure. However, you should not drive yourself. Please prepare for your session by arranging transportation to and from our clinic.
Procedure
Dr. Hayes will explain the specific details of your session well before your arrival. You will receive a local anesthetic to provide a painless, gentle transformation to the area being contoured.
After a few tiny incisions are made to the region you want tightened, a small J-Plasma device pinpoints the soft tissue. This device is a small tube called a cannula. This cannula is specially designed to deliver the proper heat without causing recipients any discomfort. It maintains your body temperature surrounding the treatment area while shrinking slack tissue with concentrated ionized helium. The radiofrequency waves excite the helium, converting it to plasma energy.
Dr. Hayes applies the targeted energy from this ionization process to contract your loose skin and reduce swelling. Plasma energy also stimulates your tissue's natural ability to increase collagen production.
The Renuvion procedure is remarkably efficient, lasting only about 45 minutes. The results, however, can last for several years. By targeting hyper-specific tissue, Renuvion tightens as it contours.
Recovery
When your Renuvion procedure is complete, you will be fitted for a compression garment. Please wear this according to Dr. Hayes' instructions to assure for ideal recuperation.
Get plenty of rest and relaxation in the days following your procedure.
Keep the affected area slightly elevated when you sleep and try to avoid strenuous activity. Dr. Hayes may recommend light exercise like peaceful walks and slow, deliberative stretching exercises. By promoting proper circulation, you provide your body the support it needs for a happy, healthy recovery.
Results
When your skin is tightened by a Renuvion procedure, its elasticity becomes noticeably more pronounced. Tighter, firmer tissue is an immediate benefit of J-Plasma treatment, but the results will continue improving over time. As your collagen levels increase during the recovery process, the underlying structures of your skin will enjoy added support and replenishment.
The tightening process itself is also quite striking. The length of your soft tissue fibers may shrink by a factor of 40% to 50% during a Renuvion procedure. [3] While these immediate results are astounding enough, they are just the beginning. As any incidental swelling subsides, your skin adjusts and flourishes for several weeks after the procedure.
Cost
Our conscientious care team is willing to work within your budget to deliver the results you seek. If your insurance provider does not cover Renuvion/J-Plasma therapy, please consult our office for help. We often run Specials and we are always ready to discuss your individual financial situation. Quality aesthetics should never be cost prohibitive. To talk about pricing and any related concerns, please call our office and talk to one of our attentive staff members.
FAQs
Is Renuvion safe?
Yes. Renuvion/J-Plasma therapy is an FDA cleared procedure and Dr. Hayes is well versed in its applications and versatility. If you live in the Portland, Oregon, area and have questions about the benefits of Renuvion, please don't hesitate to call (503) 505-5288 for answers.
Is Renuvion painful?
No. Dr. Hayes will administer the appropriate anesthetic to assure a gentle, comfortable experience. Since Renuvion is less invasive than a facelift or equivalent procedure, its recovery time is shorter.
How long do the benefits of Renuvion last?
Every client is beautifully unique. While results may vary, Renuvion can tighten and lift the skin around your neck for over five years. Facial skin can benefit for up to 10 years after a J-Plasma procedure. To enjoy the wonders of Renuvion enhancement for yourself, schedule a consultation with Dr. Roby Hayes.
How does J-Plasma therapy work?
Renuvion directs helium gas to a targeted area. Radiofrequency (RF) waves ionize the helium to heat the tissue below your skin. This rapidly contracts the subdermal material, tightening your face, arms, or whichever area you want addressed.
References
Gentile, RD. (2019) "Renuvion/J-Plasma for Subdermal Skin Tightening Facial Contouring and Skin Rejuvenation of the Face and Neck". Facial Plast Surg Clin North Am. 2019 Aug;27(3):273-290.
Gentile, Richard D. (2018) "Cool Atmospheric Plasma (J-Plasma) and New Options for Facial Contouring and Skin Rejuvenation of the Heavy Face and Neck". Facial Plast Surg 2018; 34(01): 066-074.
Duncan, Diane Irvine. (2019) "Helium Plasma-Driven Radiofrequency in Body Contouring". The Art of Body Contouring. Submitted: October 5th 2018; Reviewed: January 7th 2019; Published: March 8th 2019.