ThermiBreast
Offered at our convenient location in Portland, Oregon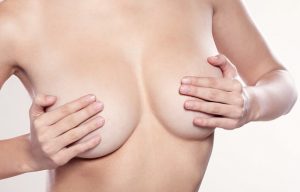 ThermiBreast, from the makers of Thermi, is a new non-surgical procedure that uses controlled subdermal tissue heating to enhance the appearance of the breasts. The procedure provides an alternative to the invasive, surgical breast lift procedure.
It is designed for patients who desire a "tune-up" in the appearance of their breasts and do not need an invasive procedure that requires general anesthesia and results in scarring.
Dr. Roby Hayes, a general surgeon for over 25 years, and his team at Bridgetown Aesthetics are experienced Thermi providers, helping patients achieve their cosmetic goals without the need for intrusive plastic surgery. Contact our office today to schedule a consultation and make your cosmetic dreams a reality!
What Is ThermiBreast?
ThermiBreast uses the ThermiTight application to heat the subdermal tissue in a controlled manner, thereby enhancing the patient's natural breast contour. The controlled applied heat contracts the skin tissue, which provides the lift and improved shape. It is performed by placing a small probe under the skin, which gently heats specific tissues to a pre-selected therapeutic temperature. The heating of the skin also promotes collagen production. Improved collagen production can have an anti-aging effect, tightening the skin, lifting the breasts, and, in some cases, improving the appearance of stretch marks.

To find out more about this innovative technology and how you may benefit from it, contact Bridgetown Aesthetics in Portland, OR, and request a consultation now.
Before and After Photos
Benefits
Controlled heat
Constant feedback of actual tissue temperature
Single application
Minimally invasive
Limited downtime
One of the main reasons that our patients come into Bridgetown Aesthetics interested in ThermiTight applications is because similar results can be achieved as with invasive procedures, but without the need for incisions or the resulting scars and downtime. However, ThermiTight and ThermiBreast can provide even more benefits to our patients.
Good Candidates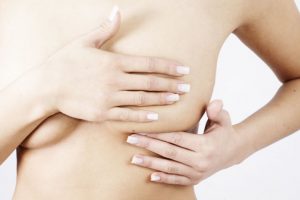 Good candidates for ThermiBreast are healthy women who are interested in lifting or accentuating the definition of their breasts. Many of our patients who benefit from ThermiBreast have recently had children or are simply experiencing sagginess in their breasts due to age or heredity.
The sagging of the breasts is clinically known as ptosis. Patients interested in diminishing minor ptosis of the breasts without the need for invasive surgery may be good candidates for ThermiBreast.
Patients are not good candidates for ThermiBreast if they are pregnant, have a fever, or have a skin infection around the breasts.
As with any procedure that we perform at Bridgetown Aesthetics, the patient must come in for a consultation prior to being approved for the treatment. The consultation is important for a number of reasons, the foremost reason being the patient's safety.
Prior to performing any procedure, Dr. Hayes needs to ensure that the patient will respond positively to the treatment. For this reason, it is important that the patient provides a complete and accurate medical history at the time of the consultation. After discussion and examination, Dr. Hayes will determine whether the patient's goals will best be met using ThermiBreast or whether an alternative procedure would be more appropriate.
ThermiBreast vs. Breast Lift (Mastopexy)
ThermiBreast is considered an alternative to a breast lift when the patient is experiencing minor ptosis of the breasts. While the procedure can improve body contour, it is not designed to add volume to the breasts. Patients wishing to go up a cup size or more may want to consider breast augmentation with implants or fat transfer. However, lifting and tightening of the breasts can create an illusion of more breast tissue.
Many women are attracted to ThermiBreast over breast lifts, because they can avoid incisions, general anesthesia, and significant recovery time. Following ThermiBreast treatments, patients can return to work as early as the next day. A breast lift, on the other hand, requires patients to take at least one to two weeks off from work to recover, drains are sometimes necessary, and scars are visible.
However, ThermiBreast cannot accomplish the more dramatic results that a surgical breast lift can provide. Patients with more significant sagging of the breasts, or who have large breasts, will likely require a more invasive procedure to achieve their desired results. Neither procedure is designed to remove stretch marks, but ThermiBreast may improve their appearance with improved collagen production.
To determine whether or not the patient would benefit most from ThermiBreast, a breast lift, or an alternative procedure, request a consultation at Bridgetown Aesthetics in Portland, OR. Our team looks forward to working with you.
Procedure
Patients will be awake throughout the ThermiBreast procedure, as it requires only local anesthesia and is done in the office. This makes the procedure safer, less costly, and provides faster results than the respective surgical procedures.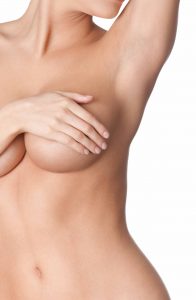 After the anesthesia is administered, the doctor will make tiny incisions around the areola and insert the probe through these small holes. The probe will administer the radiofrequency energy which will gradually heat the tissue. This will make the skin and tissue in the heated area begin to contract. To ensure patient safety, Thermal Image Guidance infrared camera will monitor the temperature of the skin for patient comfort. The entire procedure should take about an hour, and patients can then return to their normal activities.
Patients will see the results from their ThermiBreast treatment right away. Furthermore, as collagen production increases, the results will continue to improve over the course of the next six months to a year. In general, patients can expect the breasts to raise one to five centimeters on each side. However, results will vary. In some cases, improved collagen production can also improve the appearance of stretch marks. Results are long lasting, but the natural aging process is inevitable.
Recovery
Recovery from ThermiBreast treatment is very straightforward and relatively quick, especially compared to the alternative surgical breast lift procedure. Since there are no significant incisions, there is no need for stitches, and there won't be any resultant scarring. The most common side effects include bruising and swelling around the breasts. To minimize this bruising and swelling, and improve the body-contouring results, the patient will be placed in a postoperative compression garment or tight-fitting sports bra to support the breasts.
Patients can return to their regular routines, including showering, working, and running errands, the day after their treatment. However, they should wait to engage in more strenuous activities, like working out, for one week.
Additional ThermiTight Treatments
ThermiBreast is just one ThermiTight technique that can be used to tighten skin and improve body contour. Other potential areas for skin tightening include:
Neck
Jowls and Lower Face
Abdomen
Arms
Thighs
Knees
Bra Line
Please feel free to take a look at our Before & After gallery to see some of the amazing body improvements made with ThermiTight treatments. Our patients have had great success with ThermiTight, and we look forward to helping many more achieve their cosmetic goals.
Consultation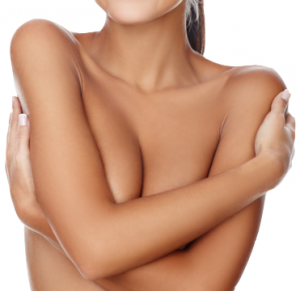 To be considered for ThermiBreast treatment, patients should first request a consultation at Bridgetown Aesthetics. At the consultation, the patient will meet with one of our certified advanced aestheticians, who will perform an initial screening evaluation, asking the patient why she is interested in ThermiBreast and what she hopes to achieve from the treatment.
Next, the Master Aesthetician and Dr. Hayes will determine if the patient is a good candidate for ThermiBreast. The medical history will be reviewed, including past treatments, medications, illnesses, and alcohol or tobacco use. Dr. Hayes will perform a breast examination to analyze the patient's skin and degree of ptosis to determine if the patient's goals can reasonably be met with ThermiBreast.
If the patient is a good candidate for the procedure, a detailed procedural plan will be created and reviewed with the patient. They will go over the treatment in detail and answer any questions that the patient may have. There will be an opportunity to discuss other Thermi treatments and other body-contouring and aesthetics procedures that we offer. We'd be happy to go over the options with you.
Price
The cost of ThermiBreast will vary from patient to patient, depending on the individual's concerns and goals. In order to determine what will be required to achieve the patient's goals, the patient must first come in for a consultation. Factors such as the size of the treatment area and potential combined procedures will affect cost. Nonetheless, ThermiBreast, and all Thermi procedures, are typically less costly than their invasive alternatives.
Our team will work with the patient to create a customized procedural plan created with the patient's body, goals, and budget in mind. To get started, contact Bridgetown Aesthetics and request a consultation today. We look forward to meeting you in person in Portland, OR.