Hyper-Dilute Radiesse
Offered at our convenient location in Portland, Oregon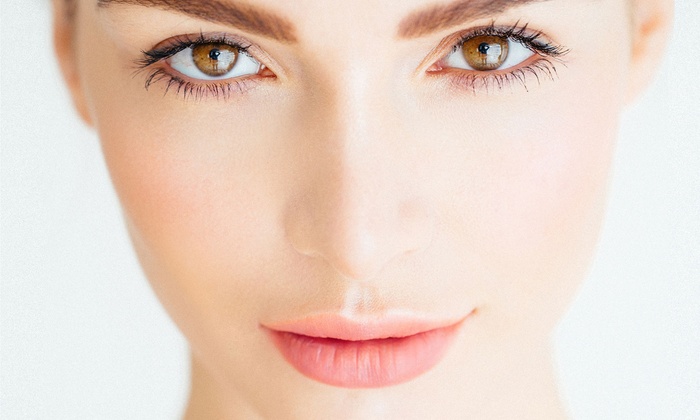 Radiesse is a dermal filler that can be hyper-diluted and used in skin rejuvenation throughout the body. Unlike other fillers, which are usually made from hyaluronic acid (HA), the main ingredient in Radiesse is calcium hydroxyapatite (CaHA), a thicker formula that works differently, and has a longer-lasting effect. The main function of dermal fillers is to provide targeted soft tissue volume, but Radiesse can be used differently when it's hyper-diluted! Radiesse is a biostimulatory agent. In its undiluted form, it stimulates the production of collagen to increase volume in specific treatment areas. Diluted Radiesse can be injected across larger areas so that the production of new collagen, elastin, and other cells improves overall skin quality and firmness. (1)
Many people notice a decline in their skin quality as the years pass. It becomes looser and lacks the youthful firmness it had before. One of the main reasons why this happens is that over time, the body produces less collagen. It can be frustrating to see these changes, and other injectables only add volume instead of addressing the condition of the skin. Treatment with hyper-dilute Radiesse achieves long-lasting results by strengthening the skin with new, healthy tissue.
Bridgetown Aesthetics provides premium filler treatments and cosmetic procedures for the face and body. Led by board-certified general surgeon Dr. Roby F. Hayes, our team offers patients ways to renew and reinvigorate their skin, reduce excess fat, and rediscover their youthful beauty with a range of tailored treatments. To book your personal consultation to discuss how hyper dilute Radiesse treatment can help you, call our Portland office at (503) 505-5288 or fill out an inquiry form on our website.
Before and After Photos
About Radiesse
Radiesse is a unique, biocompatible dermal filler that has been used for over 20 years in medicine. It has specific properties that help it provide patients with tighter, more elastic skin, and increased skin thickness. (1) Unlike HA fillers like Juvéderm and Restylane, it's composed of CaHA microspheres suspended in gel, which gives it semi-solid properties. (2) The standard usage of Radiesse is in the face, as it is an effective way to reduce signs of facial aging. Its makeup allows it to smooth moderate to severe facial wrinkles and folds. It is particularly effective in the nasolabial folds, the tissue that runs either side of the nose down to the edge of the mouth. Studies have found Radiesse to be capable of providing patients with long-lasting aesthetic improvements. Whereas the maximum longevity of HA fillers usually doesn't exceed 12 months, research confirms that Radiesse results can last up to 18 months. (1)
Dilute Radiesse
Radiesse works in harmony with your skin for the most effective results. It's so beneficial in cosmetic procedures because it can be used in so many different ways, particularly when diluted. But it isn't just used as an anti-aging strategy. One study showed that Radiesse was safe and effective in the treatment of acne scars. In the study, patients that received treatment for "saucer-shaped" scars saw results last for 12 months. (3)
How Does Radiesse Work When it's Hyper-Diluted?
Collagen and elastin make up the structural framework of the extracellular matrix, the supporting network of proteins in the skin. Formed by connective tissue cells called fibroblasts, these elements are responsible for skin tensile strength and elasticity. (4) Both the amount of collagen present, and the rate at which it is produced decline as we age, which causes skin to sag and wrinkle.
Treatment with hyper-diluted Radiesse is a way to recondition and tighten skin through the biostimulation of collagen and other important building blocks of the skin. To achieve the right consistency for skin rejuvenation, Radiesse can be thinned out with a diluent, which is usually a combination of sterile saline and lidocaine. Once injected, the calcium microspheres encourage the body to produce more collagen, elastin, and other important cells. The production of new collagen is known as neocollagenesis, and this process means the skin is gradually renewed over time to look and feel more youthful.
Data shows just how beneficial Radiesse can be for skin. By taking skin elasticity measurements and conducting ultrasound examinations on test subjects, researchers found that hyper-diluted Radiesse treatment:
Increased collagen production
Increased elastin production
Led to improved skin elasticity
Led to better skin pliability
Increased dermal thickness (1)
Where Can Hyper Diluted Radiesse be Used?
Hyper Diluted Radiesse is used in the face, neck, and body. The most common areas treated are as follows.
Neck
Decolletage
Chest
Upper Arms
Elbows
Abdomen
Hands
Knees
Buttocks
Cellulite Reduction
Benefits of Hyper Dilute Radiesse
Non-surgical way to achieve smoother, tighter skin
Safe and biocompatible, naturally reabsorbed over time
Stimulates new collagen production in aging skin
Short, minimal-preparation in-office procedure
Lasts longer than HA fillers, up to 18 months
Virtually no downtime is required
Easily maintained results
Candidates
Patients with a noticeable decline in skin quality, mild to moderate skin laxity, and collagen depletion in one or multiple areas of the body may benefit from hyper-diluted Radiesse treatment. Procedures may not be suitable in the following circumstances.
Those who are hypersensitive to the ingredients in Radiesse
Those with a history of severe allergic reactions (anaphylaxis)
Those with multiple severe allergies
Those who are pregnant or breastfeeding
Procedure
Hyper-diluted Radiesse is injected below the dermis in an area called the subdermal plane. It is important to ensure the solution is spread evenly throughout the tissue. It is important to do this to encourage even neocollagenesis. Your injector will use special injection techniques to ensure that the area is evenly treated. And, the solution contains between 1-2% lidocaine for numbing and comfort. (1) As the amount of solution needed will vary depending on the area you are treating, procedure length may vary. Shorter procedures may take as little as 15 minutes!
Recovery & Results
Bruising occurs in fewer than 6% of cases, and recovery is simple! Though swelling can occur in any area, it is usually more prominent in the hands and the knees, and less commonly seen in other areas. (1) There may be some immediately noticeable skin tightening, but most patients will begin to see their final results after as little as 4 weeks. As more collagen is stimulated in the deeper tissues of the skin, patients will see improved skin tightness and quality.
Corresponding & Complementary Procedures
Patients who wish to combine procedures can with Radiesse! In some cases, it may be possible to get neuromodulator treatment, such as Botox at the same time. The best way to find out what you can do to customize your treatment at Bridgetown Aesthetics is to book a personal consultation to speak with us. 
To read more about our procedures, take a look at our blog!
Cost of Skin Tightening Treatment with Radiesse in Portland, OR
The cost of your procedure will depend on the area(s) of your face, neck, or body you wish to treat, and the amount of Radiesse used. We will calculate an accurate estimate at your personal consultation. To get in touch with us for a skin-tightening treatment with Radiesse, call Bridgetown Aesthetics at (503) 505-5288 or fill out our convenient form to start your journey toward effective skin rejuvenation.
FAQ
What does hyper-diluted Radiesse treat?
Radiesse can be diluted to improve skin tightness and thickness by boosting its production of collagen. Unlike results from other dermal fillers, its results last up to 18 months.
Is dilute Radiesse treatment uncomfortable?
Although every patient differs, the addition of lidocaine to the Radiesse solution ensures the procedure is as comfortable as possible for patients.
References